Have you ever heard of Livescribe's smartpen? This tool can record conversations, take notes and record written information all at the same time and then transfer them to a PC. Sounds incredible? There's more. You can actually use this pen to improve your logistics process. It can digitize your hand-written labels, inventory data recording and package exchanges with shippers.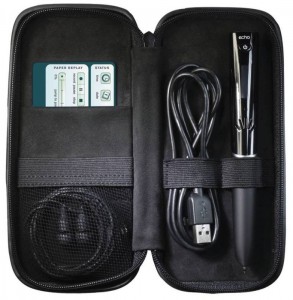 The smartpen weighs 1.5 ounces. It looks like a normal pen but has a built in mic and digital technology that senses the series of control buttons and dots printed on Livescribe's specialized Dot Paper. You can order this special paper from Livescribe or from special retailers such as Best Buy and Staples. You can also print them using a color laser printer.
Basically, anything you write on the Dot Paper can be saved in the pen. This pen is compatible to both Windows and Mac. It uses a micro USB cable to connect to a computer so you can upload your data. You can then print or email your text or audio or share them through Google Docs or import them to Microsoft OneNote. You can also share them through Facebook.
There are other smartpens available in the market such as IRISNotes from Belgium, Digital Field Solutions from the UK and Anoto from Stockholm. Livescribe stands out in the digital pen market because it also offers business-friendly tools and software.
You can use the smartpen to write important information such as shipping numbers, delivery information, job orders, etc. once and then automatically transfer them to a PC with little or no errors. You can save time because you don't have to do these things twice and you don't have to record them manually.
If you have specialized logistics software, it might not be easy to transfer information from Microsoft Word. Remember that the smartpen's data is captured through Word. You can either use Access or Excel to transfer the data to your software.
Another challenge that you might face is if the user has terrible handwriting. Remember that this is a device powered by a technology that has not been perfected yet so it can only do so much. And, as it is still a pen, you can easily misplace it.
The smartpen is not a logistics tool replacement. It is a tool to help you make your logistics process better. Small companies can benefit from it but as your company grows, you might outgrow it as well. You can take advantage of its price starting at $100 for a pen with 2GB storage. The price goes higher as the storage gets bigger. It sounds costly for a pen but it is still cheaper than mobile work terminals. You can benefit from its features if you are budget-conscious. It's a tool that's easy to use and cost effective that will help you manage your shipping information better.
This article was brought to you by sykes-gala.com. Visit the website for your order fulfilment needs.