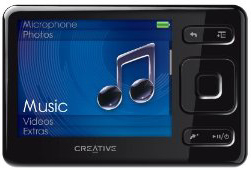 Portable music players have given easy and quick access to users to unlimited music while on the go. Music addiction is a common phenomenon that cannot be suppressed easily and there is really no need to do this exercise in futility as the top manufacturers have come up with the best MP3 players to fulfill the music needs of users while they are travelling, running, working out, reading or simply having a hearty meal. Creative and SanDisk stand as two of the most respected manufacturers of MP3 players and in case you are on the lookout for a good MP3 player, here is a brief comparison:
Price:
All in all SanDisk has to offer three amazing MP3 players, namely, Sansa Fuze+, Sansa Clip Zip and Sansa Clip+. On the other hand, Creative offers a wider range of options in portable music players such as Zen X-Fi3, Zen X-Fi2, Zen X-Fi Style, Zen Style 300, Zen MX, Zen Mozaic EZ300 and Zen Style M300.
Generally, SanDisk MP3 players are more affordable as the 8GB versions of Sansa ClipZip, Sansa Clip+ and Sansa Fuze+ are available for $69.99, $59.99 and $89.99 respectively. On the other hand, the cheapest Creative Mozaic EZ300 is up for grabs for $49.99, while the priciest X-Fi2 with 32GB storage capacity is available for as much as $229.99.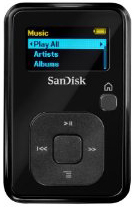 Storage Capacity:
Creative Zen MP3 players hold a slight edge over SanDisk Sansa music players when it comes to storage space. Generally, all models of MP3 players by either brand are available in 4GB and 8GB versions. The highest storage space offered by SanDisk MP3 player is 16GB featured by Fuze+. On the other hand, Creative Zen X-Fi3 offers the highest storage space of 32GB.
Battery Life:
Creative Zen players are slightly ahead in the race for the longest battery life as compared to SanDisk Sansa MP3 players. While Creative MP3 players offer audio playback time ranging from 25 to 36 hours, the longest audio playback time offered by Sansa Fuze is 24 hours. In terms of video playback time, Creative Zen players and Sansa Fuze+ are neck to neck at 5 hours.
Extras:
There are many customers who make the final decision about purchasing any gadget on the basis of extra amenities. In terms of microSD card support, both Creative and SanDisk MP3 players are very supportive while same is the case in terms of offering built-in FM radio. Once again, Creative Zen MP3 players edge past their rivals from the other camp in this area as they support creation of playlists, calendar, contact and task lists and 'extras' that can really come handy for travelers. In addition, there is a good range of accessories in support of Creative Zen MP3 players as compared to SanDisk Sansa music players.
The fact of the matter is that in terms of performance both Creative and SanDisk MP3 players are pretty much equals but the fact that Creative offers more options in MP3 players and accessories makes it a preferable choice over its rival brand.
This guest post is contributed by Daniel Petrovski. Check out his website or follow him on Google+.