One of the best new Android powered smartphones on the market is the LG Google Nexus 4. It is being regarded as the new flagship Android device and with good reason. The Nexus 4 packs quite a powerful punch for individuals who enjoy the Android platform and the typical customization it allows. If you are in the market for a great new smartphone, it is well worth your while to consider the LG Google Nexus 4. Exploring all of the phone's wonderful features can help you along with your decision on whether it is the right one for you.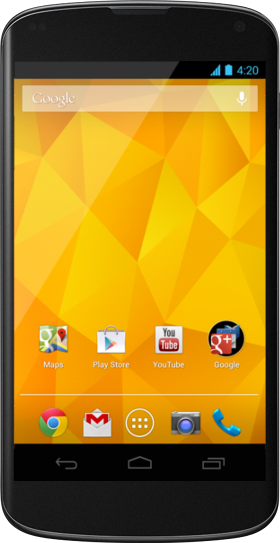 The LG Google Nexus 4 has a beautiful, slim design and is very light at only 139 grams. The WXGA touchscreen is 4.7 inches and protected by Corning Gorilla Glass. Screen resolution measures in at 1280 by 768 pixels or 320 pixels per inch, making it one of the more crisp displays available. The HD screen is a pleasure to use, whether you are surfing the Internet, reading an eBook or playing some of your favorite games.
The Nexus 4 is available with internal storage only in amounts of 8GB and 16GB respectively. 2GB of RAM plus a quad-core Qualcomm Snapdragon S4 Pro processor allow you to get all of your needs met with the phone, whether you are streaming music or video, downloading content or web browsing.
The Google Nexus 4 is available through various wireless carriers on GSM networks. It even includes the AWS 1700 band that T-Mobile USA and Canadian carries Mobilicity and WIND support. It is also available to purchase directly through Google Play unlocked, which means the user can pop in the SIM card of their choice and use it on any GSM carrier of their choosing, whether they are on a two-year contract or choose to go prepaid.

The phone utilizes the standard micro USB port for charging and synchronizing with a computer. It has an 8 megapixel rear-facing camera that can capture beautifully crisp photos and is capable of HD video at 1080 pixels and 30 frames per second. The front-facing secondary camera is 1.3 megapixels, which is more than adequate for a pleasant video chatting experience.
One of the best features of the LG Google Nexus 4 is that it supports wireless charging. This means that the user can simply place their phone on a compatible wireless charger without having to plug in a USB cable, no matter where they are. All of the standard Google apps are pre-loaded onto the smartphone as well, including Google Talk, Gmail, YouTube, Google Maps and many more. There is more access to many more great apps on Android's Google Play marketplace, many of which are free.
The Nexus 4 comes equipped with the Android Beam feature, which is its NFC or near-field communications technology. This allows the user to quickly and conveniently share content with another person simply by touching the phone to the back of the other Android device. It also allows the individual to make payments directly from their smartphone courtesy of the Google Wallet feature. Simply store credit or debit card information within and pay for items at supported stores with a quick tap of the phone.
Overall, the LG Google Nexus 4 is a great choice of smartphone for anyone who is a fan of the Android system. It offers an overall pleasant user experience with its rich selection of features and beautiful screen.
This has been a guest post from Quick Review, the Aussie site that lets consumers know whether or not to buy the latest phone.