I am a huge fan of new gadgets and developments in computer and mobile communication design. I attribute this to my love of the Inspector Gadget cartoons shown when I was kid and all the great gadgets used in the James Bond films and books.
The great thing about the Internet is that you can find out all the latest news in the IT and communications industries. There are lots of blogs, forums, periodicals, newsletters and so on that can keep you up to date with what is going on.
Go, Go Organic Electronics

One of the most interesting and cutting edge areas of development to hit the Internet recently has been organic electronics. Our lives are governed by electronics and plastics these days and it was only natural that these two industries would merge together in new and exciting ways. Some amazing new designs in organic electronics have been hitting the market recently and these have really got tech fans excited. The most important of these is flexible e-paper.
Flexible e-paper really does seem like something out of a James Bond film.
This e-paper is based on a flexible plastic matrix sub-frame. This contains well over a million revolutionary plastic transistors (oTFT) and pixel electrodes.
This creates a flexible screen that is as thin and light as a piece of paper and can be bent and curved into different shapes without distorting the image.
This offers a wide number of possibilities for applications from smart cards and security tags through to large scale advertising displays.
Flexible e-paper offers the first real prospect of a complete glass screen replacement.
Glass-based screens are heavier, non-flexible and less robust. With e-paper there will be many opportunities to improve and advance display technology.
A new colour e-paper screen has just been unveiled as well. I am not sure when this will be available for sale but when it does hit the mass market things are going to change very rapidly in the fields of mobile communication and IT.
The company producing the new colour screen is Plastic Logic. They already have 8.5×11 inch e-paper monochrome screens on the market.
This new colour design is made from a combination of a flexible greyscale screen with a flexible filter laid across the top. These two sections flex at the same rate so that the screen does not get distorted or bent out of shape.
Designers are currently fine tuning colour designs that could offer full video playback.
The new colour screen designs offer some very exciting potential applications across a wide variety of industries.
This includes some non-display concepts as well such as medical scanning technology and integration with silicon chips to make 'smart' products such as unique brand authentication devices that can help to stamp out copyrighting fraud and save businesses millions.
Investing for Success
Thinking about all the potential uses for an electronic replacement to paper and glass displays is quite mind-boggling and really very exciting. I will be keeping a close eye on organic electronics in the future to see just how far the development can go.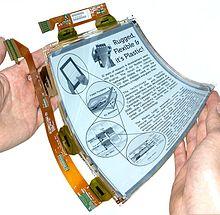 If you are thinking of investing in any new and upcoming gadgets then this might just be the booming industry you should get involved in. Don't forget that the Kindle e-reader has been one of the hottest and most successful new devices on the market in the last few years. The competitive marketplace is also driving forward the development of flexible e-paper for mobile computing and communication to create flexible, unbreakable screens for the future.
Experts are suggesting that the e-paper market will grow at a fast pace over the next five years and could be generating up to $10 billion annually by 2018.
Simon Wilson blogs about technology and the latest updates in the world of gadgets.  When he's not online Simon enjoys rowing, cycling and running the occasional marathon.