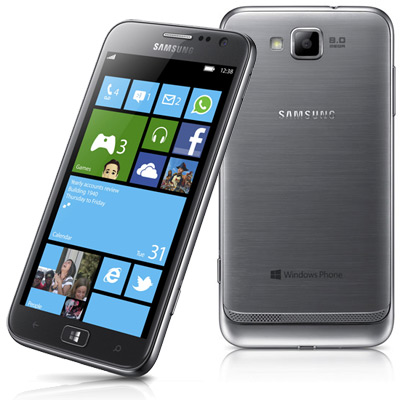 The highly anticipated Samsung Ativ S has finally emerged and is now widely available in the market. It is actually the very first Windows 8 phone from Samsung to hit the US, sporting a more powerful 1.5GHz dual-core processor for lightning performance, 1GB of RAM for more storage, and 2300mAh battery for a longer battery life. More so, the unit is packed with top of the line features and apps to keep you entertained and satisfied. It uses the latest Windows Phone 8 mobile operating system, so you'll get to enjoy an exciting home screen with re sizable tiles, VoIP applications, more refined user interface, and quicker multitasking.
Design and Display
The Samsung Ativ S is a bit identical to the Samsung Galaxy S III when it comes to design. It is quite large at dimensions of 137.2 mm x 70.5 mm x 8.7 mm, and slightly hefty at a weight of 135 grams. However, it is relatively slim with a profile of 0.34 inch, so it won't easily fit on your pocket and requires a wider grip. Just like the Galaxy S III, this unit also flaunts a metallic exterior, making it more appealing to the eyes of most trendy mobile users. The top right side houses the power/lock key accompanied by a dedicated camera button while the left side holds the volume rocker. One of the highlights of this unit is the extra-large, 4.8-inch AMOLED touchscreen display which dominates the front panel. The display is well-lit, which further emphasizes the fascinating live tiles – accessible icons that give you live updates right on your home screen. Viewing angles are outstanding, so you'll have no trouble reading text and messages or viewing images even in bright sunlight.
Camera
Just like the Galaxy S III, this smartphone also features an innovative, 8-megapixel digital camera with a dedicated shutter button, so you can quickly launch it and fire off shots in a snap. This advanced snapper is complimented by an LED flash, which is quite useful when taking pictures in dim conditions as it provides ample brightness and gives you clear shots without unsightly noise or grains. Apart from the standard auto focus feature, it also has BSI (Backside Illuminated Sensor), which further improves its low-light performance. More so, it lets you record videos with audio at 1080p, so you'll get crisp video footages that are great to view on its whopping screen. You can also chat, talk, and laugh with your loved ones using its front camera. Other useful features include exposure, ISO, white balance, auto contrast, anti-shake, and everything in between.
Apps and Connectivity
The Samsung Ativ S offers heaps of standard apps for daily activities. It also features Facebook, Twitter, and Skype, so you can keep in touch with your family and friends, as well as map to guide you along the road. There's also a voice dictation app, which you can use if you're feeling lazy to text or type. When it comes to connectivity options, you'll get both Wi-Fi and 3G, which are real boon to those businessmen who have subscribed to other third party phone services like the RingCentral VoIP provider. And since this unit is powered by a dual core processor, expect a faster transfer of voice and data, wherever you are as long as you're connected to the Internet, either through a Wi-Fi network or 3G connection.
Pros and Cons
Pros:
Slim and sophisticated design.
Huge touchscreen display.
Advanced rear camera.
Fast and smooth performance.
Cons:
Lacks 4G connectivity.
Limited apps.
Overall, the Samsung Ativ S is an excellent choice to consider if you're after a Windows-based handset. With its impressive specs, cutting edge features, stylish design, solid built quality, and outstanding performance, it is indeed a great value for money.
About the Author:
Edward is an article writer that talks about business and technology. He contributed different business and technology related articles like gadgets review, latest tech news, small business phone guides, VoIP provider and business phone service in different websites. Aside from writing, he also loves to read books, to travel and do skydiving during his free time.