Wearable gadgets that pack extra features, in addition to displaying time like regular watches, are not new to the market. From early 2000s the concept of Smart Watches has been gaining momentum with the introduction of technologies like Smart Personal Object Technology (SPOT) by Microsoft in 2002. Here in 2013 we are seeing much more sophisticated watches packing hundreds of features ranging from options to check on emails, integrate with social media, to view news, stocks and even synchronize content with your smartphone. The typical, tiny package consists of a lightweight OLED display which is wearable around the wrist. They offer a lot more flexibility in doing regular tasks, like checking on important emails & social media notifications, than a high end smartphone.
Key features of Smart Watches
Smart Watches are built to integrate with the immediate siblings, the smartphones. Therefore they pack many advanced features to remotely access, control your smartphone resting inside the pocket. For instance Smart Watches let you view missed calls, send incoming calls into voice mail using specialized apps built into their system. With an attached headset you can even answer incoming calls using this cool gizmo. As many Smart Watches are powered by regular mobile operating systems like Android, many apps dedicated for Smart Watches can be found on popular app stores like Google Play. For example there are numerous plug-ins including Gmail and POP3 on Google Play that enable your Smart Watch to read emails and social media notifications. You won't have to navigate through the menus of your smartphone in order to view Facebook notifications and read new tweets as you can set your Smart Watch to automatically display them.
Smart Watches can even integrate with the calendar app on your smartphone. They gently vibrate to notify you of incoming events, and with a simple touch you can explore further details about the event right from your Smart Watch display. With the music app embedded into the Smart Watch, the music player on your smartphone can be accessed, and you can play, pause and skip tracks without bothering to pull the smartphone out of your pocket. Amidst all the hype about these cool features, Smart Watches do act like regular wrist watches, displaying time in digital or analog formats.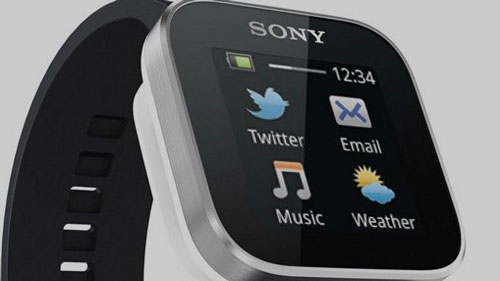 Sony SmartWatch
This is an elegantly designed handy SmartWatch packing a colored OLED display supporting multi-touch and weighing merely 26 grams. Sony has flavored the chipset with an Android coating, therefore this cool gizmo can easily integrate with your Android smartphone using Bluetooth technology. Common features expected from a SmartWatch are available from cool apps built in to handle emails and social media notifications, calendar events, and even control the smartphone's music player. In addition to Sony made the apps available on Google Play! There are lots of third party apps to get the best out of your cool gizmo. For instance Google Maps can be viewed right from the watch screen when you are in a hurry, using a handy third party app. You can attach the rubberized strap, which is available in multiple colors and wear it as a regular watch on your wrist. Once charged the battery would hold on to several days with typical usage. For $150 it certainly isn't a waste of money if you love wearing something with more far more smart features than a regular watch.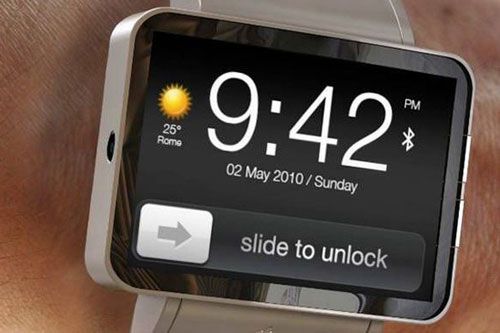 Rumors and Future models
According to the online rumor mill, Apple might be in the process of developing a Smart Watch of their own. An iPod Nano served as a -sort of- Smart Watch once it was attached to a strap. However it's being speculated that this time the technology visionary would come up with something extra special. Supposedly the chipset manufacturer behind the watch is Intel, and the rumor is that the gadget would be a remote controlling device to integrate with your iPhone and iPad. Like the Sony Smart Watch, Apple's model would make use of the Bluetooth technology and, instead of Android, iOS would power the device… which isn't really a surprise.
Google is also said to be working on their own version of Smart Watches, flavored with Android of course. The search giant is exploring ways to venture into the wearable computers with projects like Google Glass, therefore this concept on Smart Watches is highly likely to gain momentum in the future.
Conclusion
Smart Watches are still quite new to the market saturated with hand held computer gadgets including smartphones and tablet PCs. Although the concept of wearable computing is expanding rapidly there isn't still much interest among average users for these types of gadgets. Smart Watches available in today's market are miniature versions of smartphones that can remotely access smartphones to carry out tasks like reading emails, social media notifications, incoming text messages etc. Some cool features like sending incoming calls to voice mail, notifying the caller that you are unable to reach them at the moment via preset texts come in handy when you are in an environment where you can't mess around with a smartphone, such as a meeting. Using Smart Watches for activating the navigation system, calculating the calories burnt, measuring the distance covered etc. while you are jogging or exercising or cycling is far more practical than using a high end smartphone. There are obvious uses in these wearable gadgets and there is no denying of that, but the question which remains is, 'Are they enough to make someone buy one?'. However the recent success of the Smart Watch lineup manufactured by Pebble and the trend in engineering circles for wearable computing are some signs that signal about the bright future ahead of these cool gizmos.
Author Byline: This guest post on Smart Watches was shared with you by D. Blackthorn, the software and new gadgets testing expert @ stop-ddos.net.