Who's In Charge? – Lepow Moonstone Battery Pack Review
With airline travel nowadays practically requiring that one has layover at a hub for plane changes, it's often the case where you will see people at the gate gathered near a post or some other location where there is a power outlet. This power grazing phenomenon is due to the growing preponderance of our need for always on access with our phone, laptop, tablet and other device. Unfortunately airports, having been built prior to the advent of such devices, are not really equipped to support the burgeoning power needs of them. Beside that, the cost of doing so would likely stress the already money strapped industry.
So what is the smart traveler to do? Indeed, there are many offerings for phone cases, and battery packs out there that seek to fulfill the power requirements, all with some success, but often little fashion sense.  Others are fashionable, but fail to offer enough power to make sure you still have a working device after that 18 hour trip to Hong Kong and Australia.  In the minds of many, a device that looks good and offers the power to handle these needs would be a godsend.  Wait no more, as we now have a clever little powerbank from Lepow™  called the Moonstone.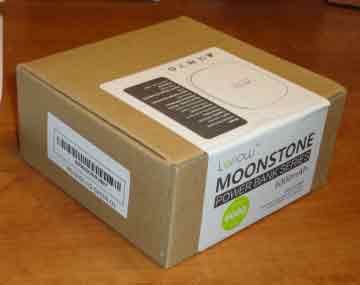 There are two different models of the Moonstone, the 3000 version and the 6000 one. The unit supplied to me for testing is the Moonstone-6000 which has a rated capacity of 6000 mAH. Both units physically look the same, but the 6000 version has both double the capacity and double the output rates. There are two standard USB ports for output, one that is rated at 1200 mA (fast mode) and the other at 2100 mA (ultra mode). This model is meant to be able to charge a modern tablet device.  It has a mini usb port for being recharged along with a cable to use for that purpose. More on this cable later.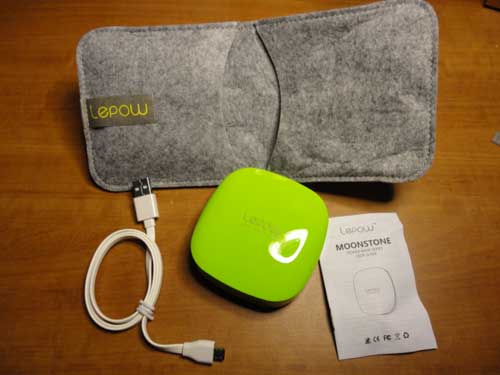 On the pro side, this unit is quite attractive. It comes in a variety of colors, the one supplied to me was a lime green, much like the Android logo shade. It's overall size, and shape are reminiscent of Apple design quality, and weighs a mere 6 ounces.  Opposite the side with the brand name is a small button used to check the battery's charge level, displaying up to 4 LED lights when fully charged.  Input and output ports are clearly marked, although a bit small and hard to see.  The basic specifications are printed on the edge opposite of the ports.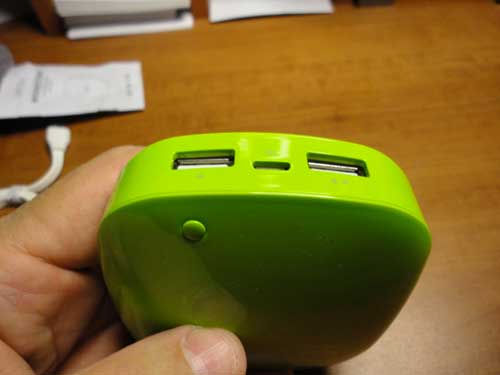 The packaging was well done, and the unit came in a fitted wool sleeve with a elastic security strap. The box itself had a clever little graphic on the bottom apologizing for typos, stating that "Learning English is WAY harder than making batteries!" The directions, which were actually wrapped around the sleeve and product when it arrived, are of much higher readability than the majority of items I've seen from overseas, and in fact gave pertinent technical information, which is often just missing.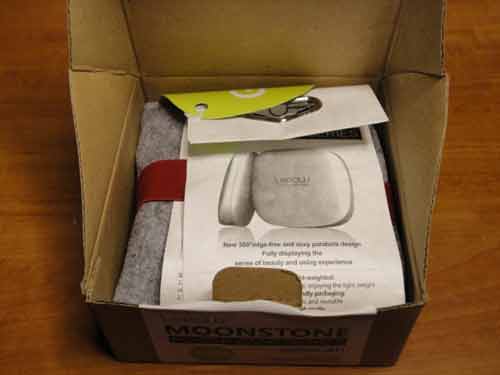 When this unit arrived, it was partially charged, showing three LED, so I placed it on a charger I had laying around.  This was one of the odd things I found, that there was no transformer sent with the unit, so it requires that you supply one yourself or charge it from your computer. If you are traveling with just a tablet, a charging transformer that accepts a standard USB male plug will be a must. One other thing I found to be an immediate issue for me was the length of the cable. For some, the approximately 24 inch cable will be long enough, but I prefer the nearly 40 inch length that Apple uses for their iPhone cables. Here's why.  Most desk heights and counter heights in the USA are standardized to 30 – 36 inches above the floor.  Standard outlet height are between 12 to 14 inches above the floor. And USB outlets on desktop models can vary a good bit, many are even lower to the floor. So if you want to set the Moonstone up on a desktop or counter-top, unless you are right over an outlet at the front of the top, or charging it in a kitchen or bathroom (not recommended!!), it's impossible to do so with the cord supplied by Lepow.
In about an hour, the Moonstone battery pack's LED showed it as fully charge. The first test was on an iPhone 3GS, which is admittedly an older model, but had just received a new battery a month ago.  It was discharged to 5 percent when plugged into the fast mode outlet of the Moonstone.  Within approximately 1.5 hours, the 3GS showed 100% and the Moonstone still showed 4 LED.  To try and see if this was accurate, I used the phone again throughout the day down to 10% and left it plugged into the Moonstone overnight. This time , the Moonstone was down to 3 LED lights.  The claim on the Lepow website is that an iPhone 4S can be extended 3 times, and this result seems to be in line with that claim.
The next test was with a brand new Samsung Galaxy Note 10.1 (review on it coming soon!), one of the newest and most advanced SoC processor tablets out there.  I had charged the Samsung fully a couple days before, and to it's credit, it takes a awhile with some 3D graphics heavy games to get it to discharge to 2%.  It takes around 6 hours to charge this tablet from this level to full using the supplied transformer and cord with tablet off during charging.  I first tried charging it with the Moonstone on Ultra port while the tablet was still on. The Galaxy Note would have none of that, so I turned if it off, at which time, the tablet happily gave the familiar battery charging graphic.  After 2 hours time, I checked both units, the Samsung was still less than a third charged and the Moonstone was down to the third LED, and switched down to the second while I was looking at it.  Having to go out and needing to take the tablet with, I discontinued the test.  Based on this brief test, I suspect if this was on a different, less power demanding, tablet, perhaps an iPad 2 or Samsung Galaxy Tab, the Moonstone would be able to give a significant charge, possibly even a full one.
The issue with  many battery packs is that they consume so much energy themselves, that you need to charge them regularly in order to have a usable pack when you are ready to dash off on a trip.  Unfortunately, most of us aren't always that well organized.  And the more frequent the charges, especially if the pack is not fully discharged, the less reliable the pack's capacity to fully charge one's electronics. Lepow claims to have dealt with this issue, at least somewhat, by greatly reducing the Moonstone's cannibalism of itself. They recommend the unit be fully charged at least every 6 months. At the time of his writing, I am unable to tell what the discharge rate is, but that is a much longer time period than any other maker's units that I've used.
The Lepow™ Moonstone is made in Hong Kong, and has FCC/CE/RoHS certification. It is sold online at various websites, the most reliable for the USA is via Amazon.com, and can retail from $47.59 to $69.99. For more information on the product's specifications, go to https://www.lepow.hk/en/stone/moon_info.html
In summary, while I cannot say that the Moonstone is a perfect product, the benefits I've experienced so far outweigh the drawbacks, and the features will fit a wide section of the mobile marketplace.  Best of all, I do love not having to hunt for the live outlets to charge my phone at the airport!